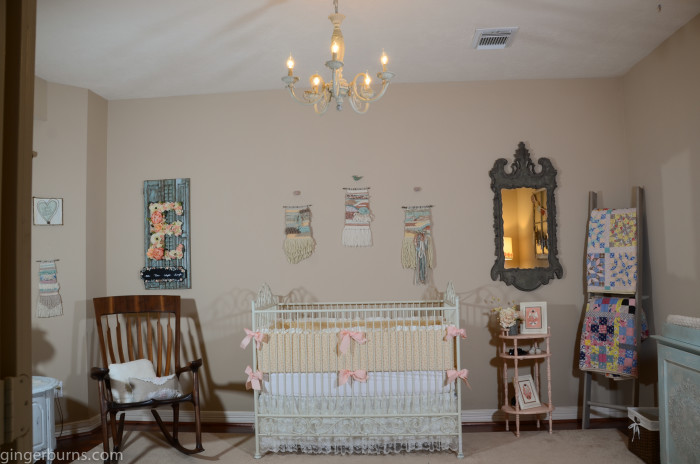 Done is better than perfect has been my mantra over the past couple of weeks and now that I step back and look it really is quite perfect. Even if some pieces ended up not going with my original plan, the room as a whole is just as I pictured it. Pretty much everything here is either second hand, something we made/altered, or something I shopped for from my own house. I am so happy to have this room done and I love it just as much as I loved Everett's nursery.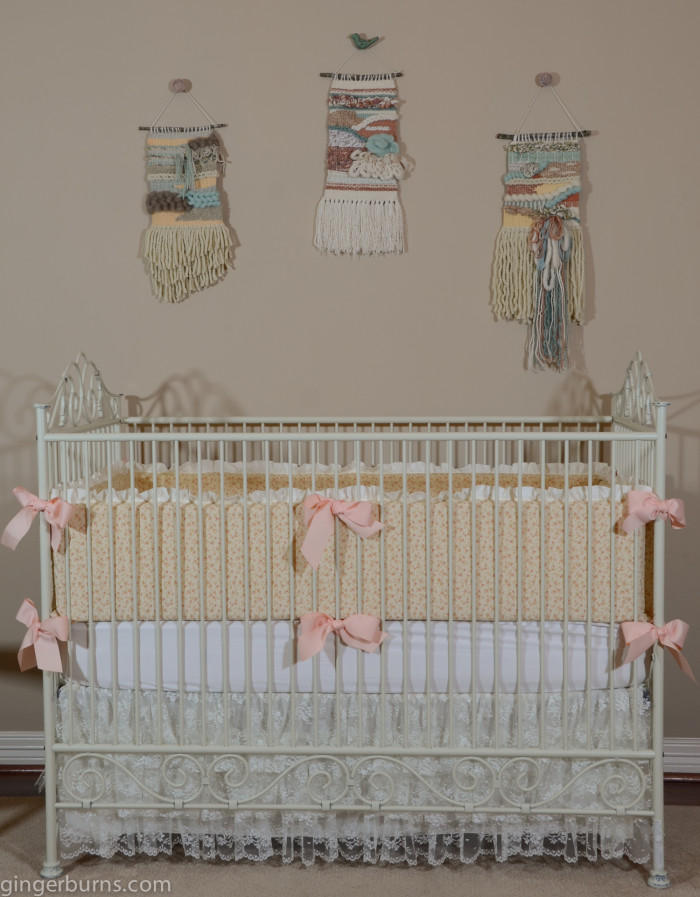 I finally settled on three recent weavings for above the crib and hung them from knobs (Hobby Lobby). The crib is from Bratt Decor. The chandelier (shown in first photo) is from Lowes.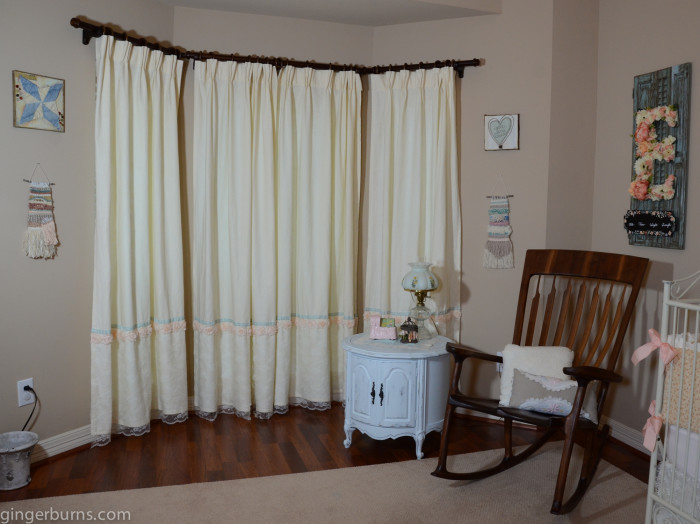 I kept the setup about the same as it was when it was Everett's space and even used a few of the same pieces when I could. I made new girly curtains and replaced a couple of the paintings that were more baby boy. For now I just have a couple of weavings hung in their place but do plan to finish some paintings I've started and change those out eventually. I am excited to rock another baby in the special rocking chair Brandon made. I softened it up with a couple of pillows I stitched up from old embroidered linens I had.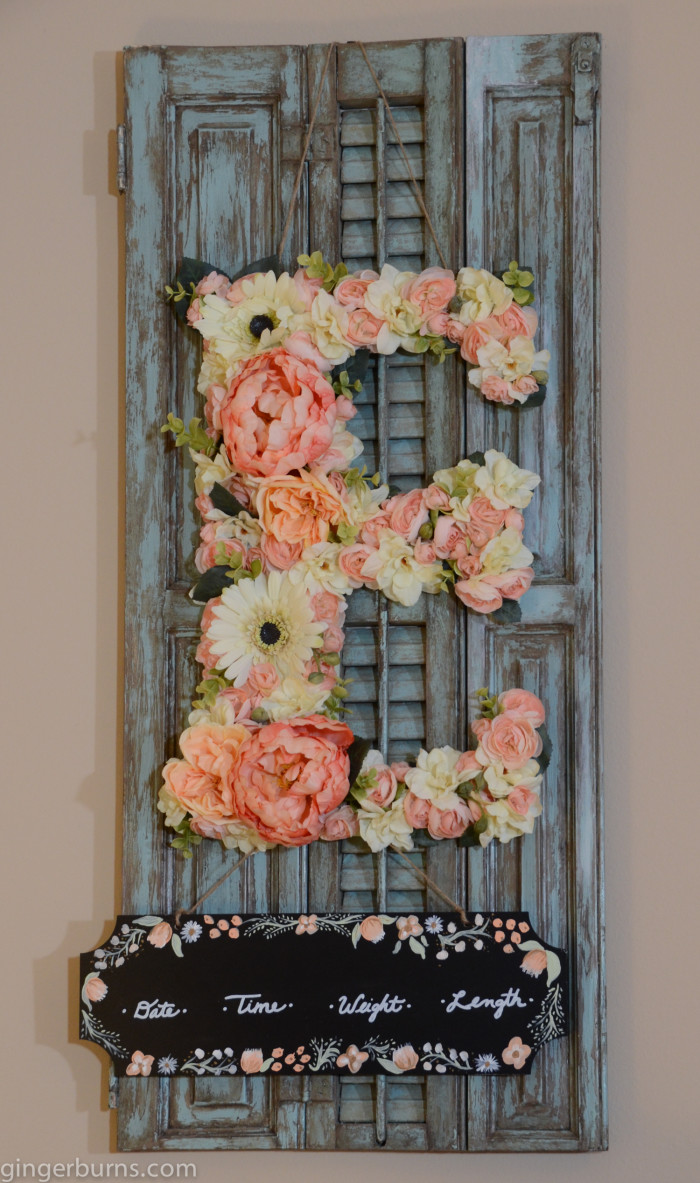 I am in love with this big floral E my friend made for the room and can't wait to record her little stats here. This old blue shutter was in a corner in my bedroom and it made a great backdrop for the E.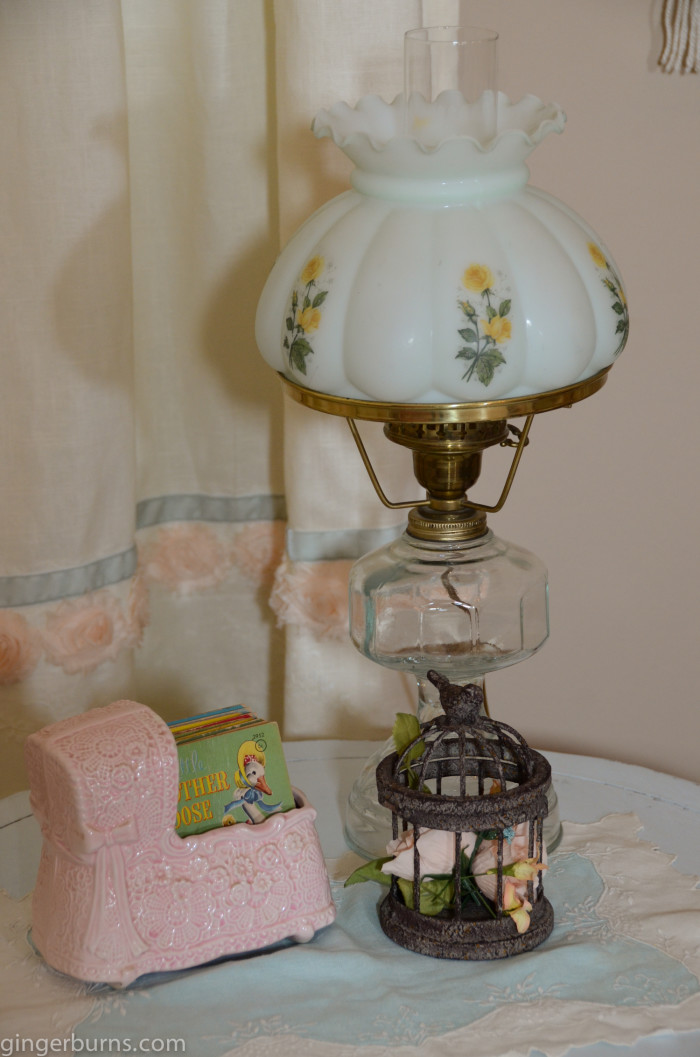 I was able to display some of Brandon's old baby things in Everett's room and was excited to get to do the same with some of mine now that we are having a girl. The little pink planter was a gift when I was a born and it made the perfect little vessel for some tiny vintage books. That lamp has been in my bedroom back home as long as I can remember and I love it so much. So excited to have a place to use it in my own home. The little birdcage is Hobby Lobby and the linen topper one of my Grandmother's.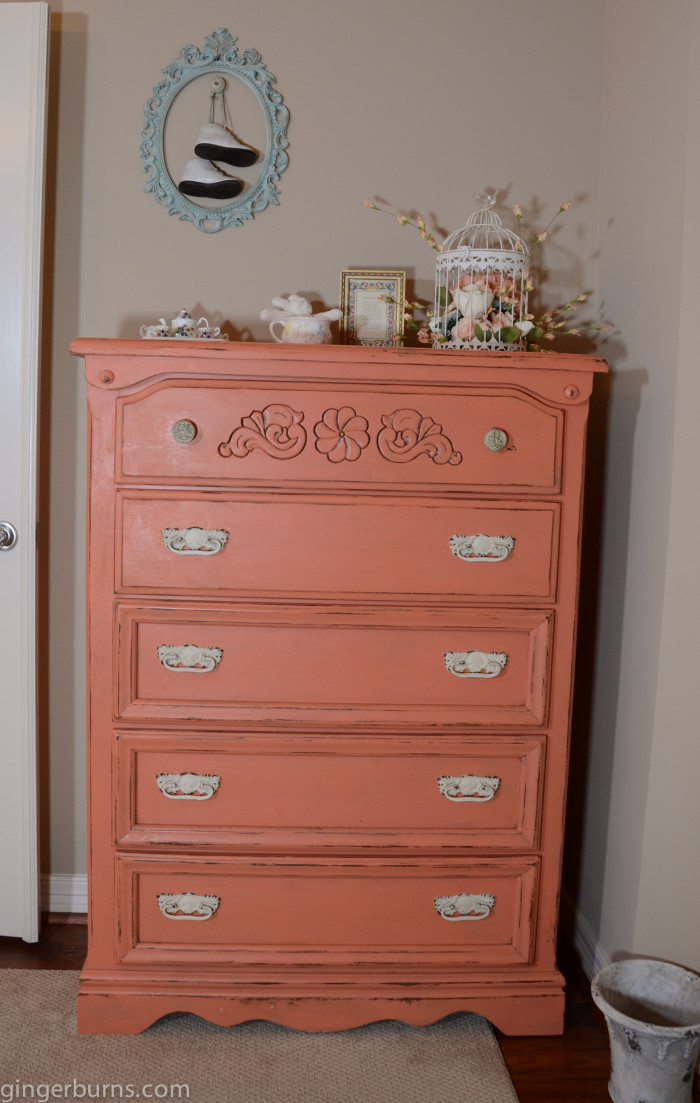 I planned to hang a painting above the chest but Brandon's baby shoes were still hanging there and I just couldn't take them down. I ended up changing out the barnwood frame to a girly one I painted and called it done.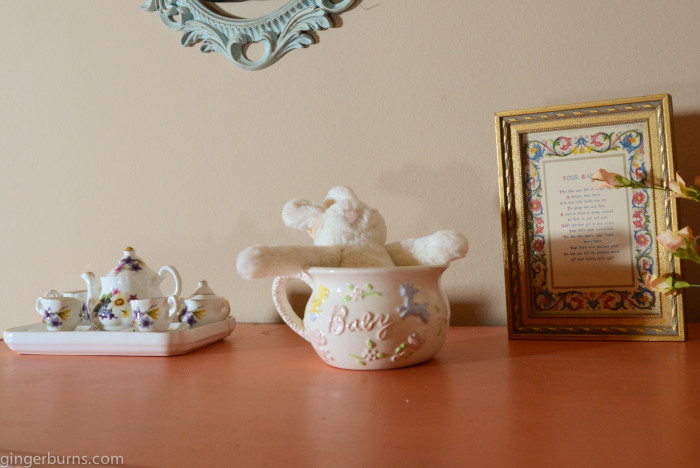 On top is an old tea set from my Grandmother's house. I don't think this is one I played with but it is really sweet. The cup planter was another baby gift of mine and the new little bunny landed there and just seemed cozy enough to stay. The framed poem was in my nursery when I was a baby.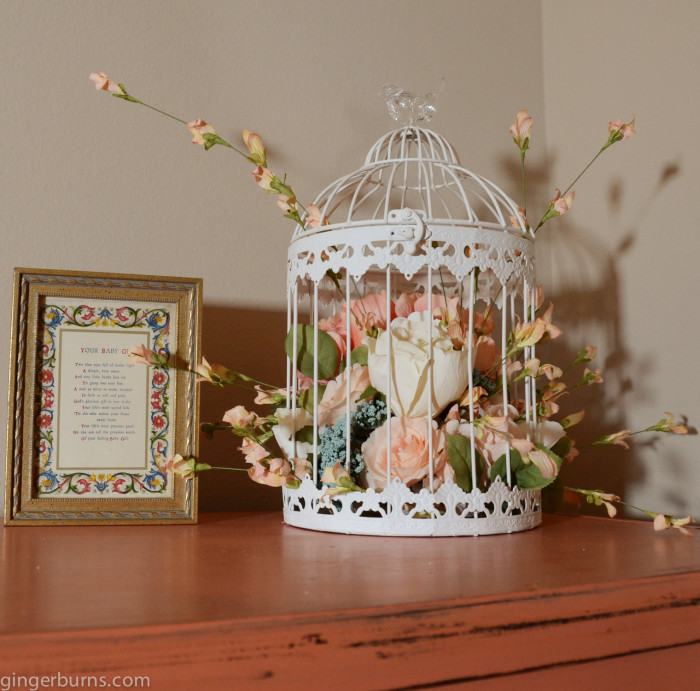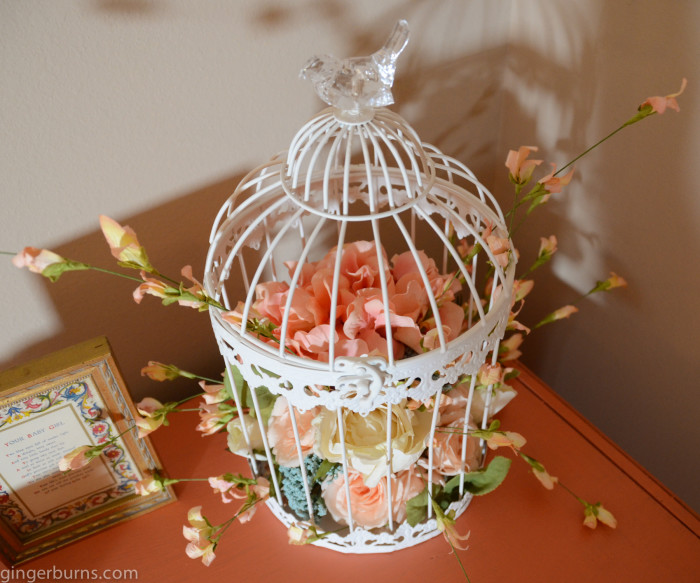 I knew  I wanted a floral arrangement here and while I was in Michaels I found all of these spring bird cages and thought that might be cute. After a quick pinterest search of course this has been done so I found lots of inspiration. I love how it turned out and now have to resist making bird cage floral arrangements for every room in my house.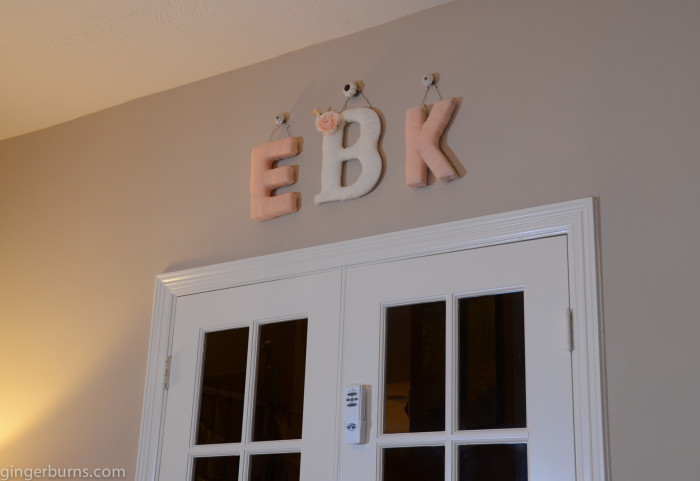 Everett's initials hung on knobs above the door so I just changed those out for baby girl. These are paper mache from Hobby Lobby that I covered in peach and cream tulle.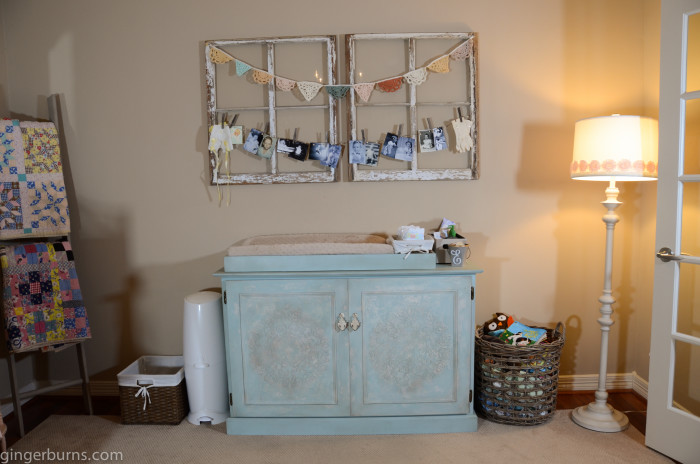 The changing table was a big DIY project for us. I will share details of how that came together in a later post. The lamp was a Lowes clearance find that I dressed up with some paint and pretty trim on the shade. The baskets for laundry and blankets/toys were there from Everett's room and I think they were World Market.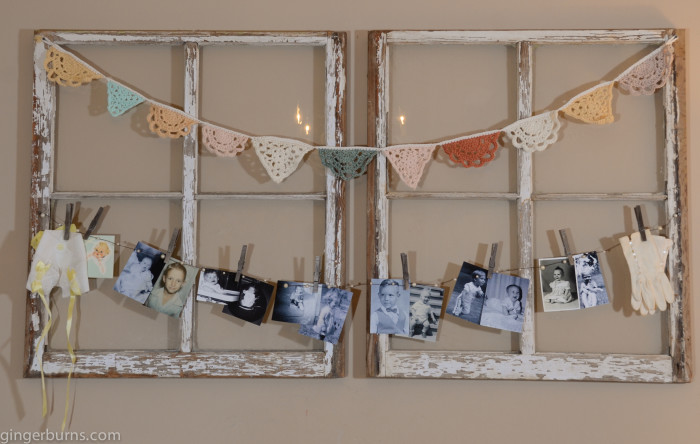 These old family photos (Brandon, myself, and our parents as babies) hung above Everett's change table on an old barnwood frame. I already had these windows from the old house where I grew up hanging in my studio space and decided to just move them here. They covered more area than the old frame and gave me plenty of room for the photos and a little crochet bunting I made. I also clipped up a little handkerchief bonnet that was mine as a baby and my mother's gloves.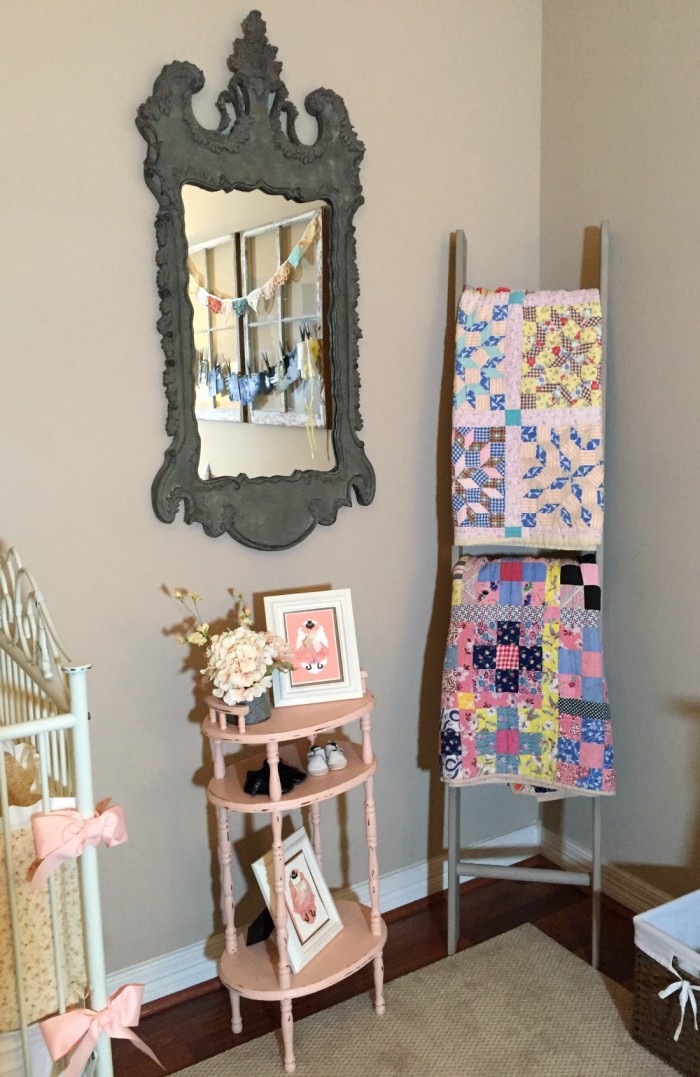 This last little nook might be my favorite. The Brandon made the ladder and it displays old quilts my great grandmother made. I love them so much and am so happy to have them out of the closet and out where we can see them. My friend made the framed paper dresses and this little peach table from a local junk shop made the perfect spot for them along with my old baby shoes and another flower arrangement. The mirror is one my mother in law gave me years ago. I always liked it but we were never able to find a spot for its feminine design before so I was excited to give one more item in storage a good home.
I will share more details of how furniture and other projects here came together in a later post, but that is the nursery. As you can probably tell from my gross overuse of the words perfect and LoveItSoMuch, I am pretty happy with it all. Baby girl will be here any day now and I hope she has lots of sweet dreams here.