Well, we're still here waiting on Baby!
The nursery is, for all practical purposes, finished. I imagine it won't look quite like this when daily life with baby hits, so here is a little tour of Everett's room.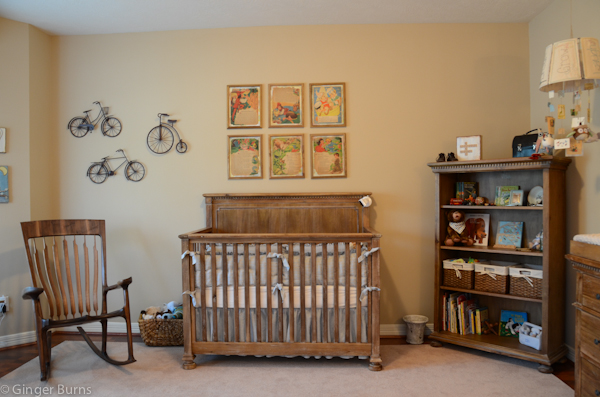 When you walk in you can see most of the big things in the room. The storybook art above the bed is still one of my favorite things.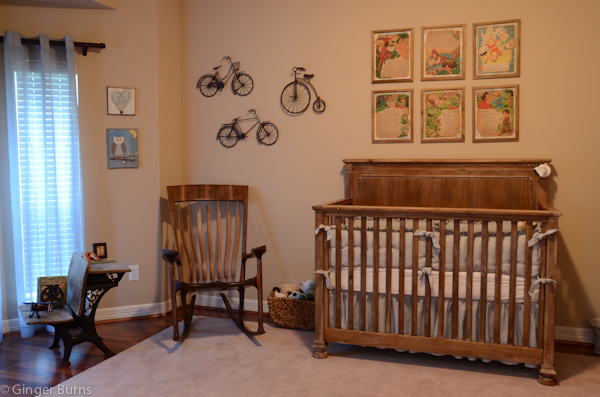 The rocking chair and table are to the left.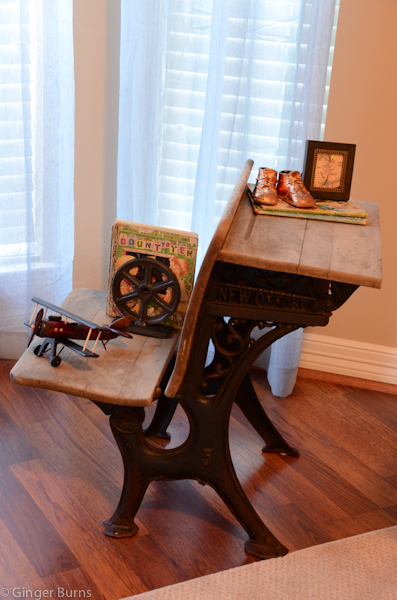 We used an antique school desk for a 'side table'. Brandon's mother found it at an antique store in Mississippi. I love the iron work and the rustic wood. The little slot for books will be perfect to hold whatever stories we are reading together. The little bronze shoes were Brandon's and the Little Golden Books were my mother's, along with some of mine. I don't like a lot of 'fake old trinket things', but I did make an exception and get the little plane at Hobby Lobby. I also found the iron gear there and it makes the perfect bookend.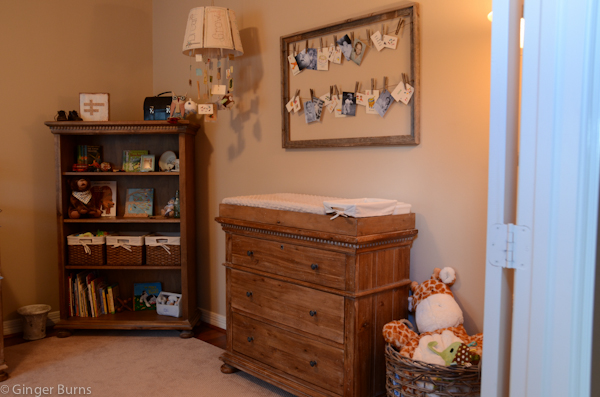 To the right we have his dresser/changing table area and the bookcase.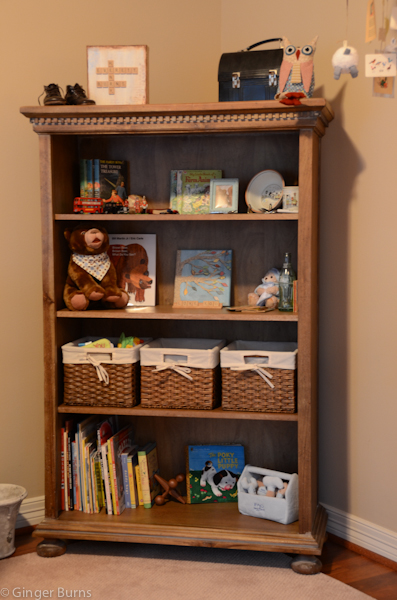 Other than toys and books, we also have a few old things that belonged to us or other's in our family. Some of my old books and Brandon's old books along with a few of his toys. The cute little circus dishes were Brandon's too, and we also have my old fork and spoon. The old lunchbox was Brandon's Papa's and the brown shoes were his Daddy's.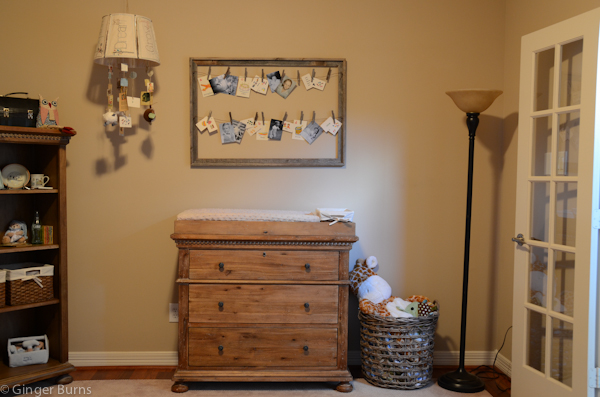 We used an old barnwood frame I found at Hobby Lobby as a place to pin photos. Right now there are old baby/child photos of Brandon and both of our Daddies along with some vintage number and alphabet cards, and I will add some of Everett and others soon. Mother even brought me some old clothespins she used years ago that are perfectly weathered. I love that my family never throws anything away!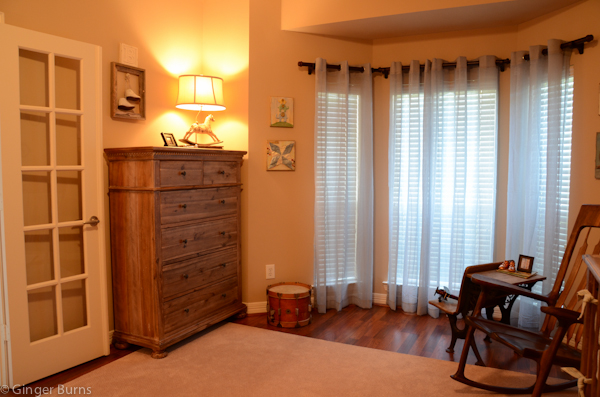 The tall dresser is on the other side of the room. The precious rocking horse lamp is another of Brandon's mothers finds – we love it! The little drum was my daddy's when he was in school and it is just perfect in here.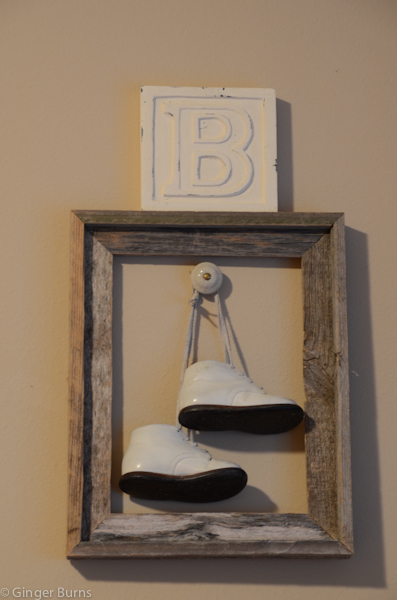 The little framed shoes were Brandon's when he was little – so precious!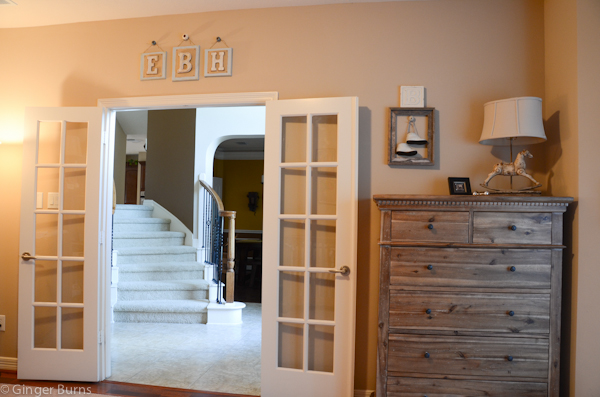 We actually converted the downstairs office to the nursery, so there is no closet, but we do have these great french doors. I love that I can peek in even when the doors are closed. Above the doors are some canvases with Everett's initials that I made a few weeks ago.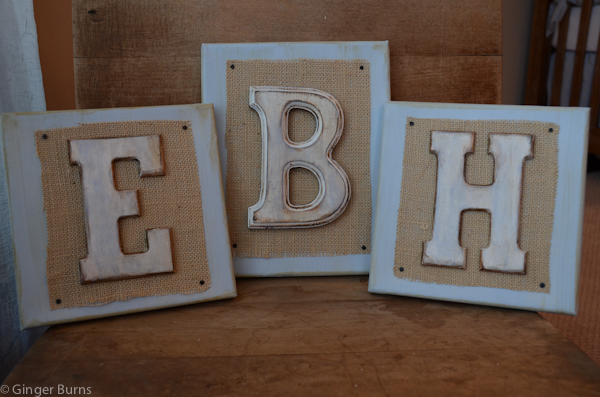 Just a blue background, some burlap and distressed wooden letters – Everett Henry Burns.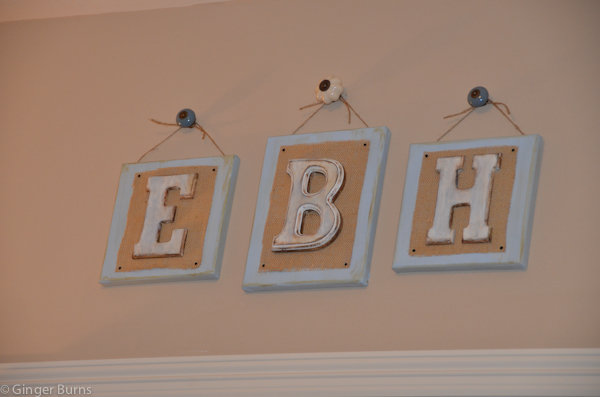 We hung them from little drawer-pull knobs.
So…that is the nursery. I am sure I will add more little treasures as I find them, and that more toys and clothes will fill the shelves and drawers quickly – but it is finished. The only thing the room is missing is a baby!