We moved Everett into his big boy room upstairs back in September, and it is still very much a work in progress. I have so many ideas of things I want to do in his room, but since we went ahead and moved him in before I decorated, most of those projects have been slow to finish. But, I can finally check this one off the list!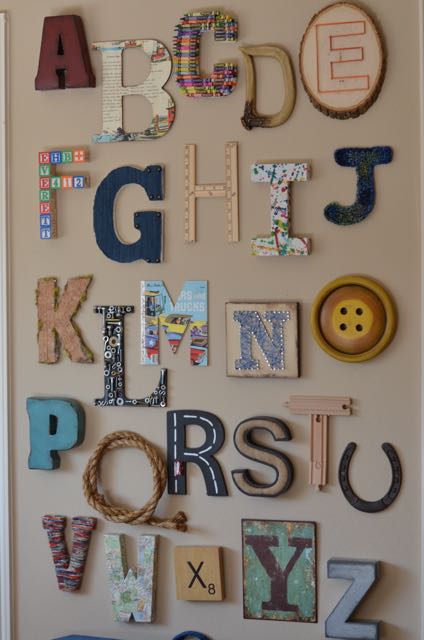 I have been obsessed with the idea of a mixed up alphabet wall since I saw this image on Pinterest. I collected letters from craft stores and ended up either altering or making most of them in different ways. The crazy thing is that I had the letters done for months and they sat in a box. We finally got around to hanging them a couple weekends ago and it only took an hour tops. Everything I dread ends up that way – but the simplest thing…
Anyway, here is a little tour of the alphabet along with details on the letters I used.
The A is from Hobby Lobby and I collaged the B with vintage school book text. For the C, I chopped crayons down to size and attached with hot glue.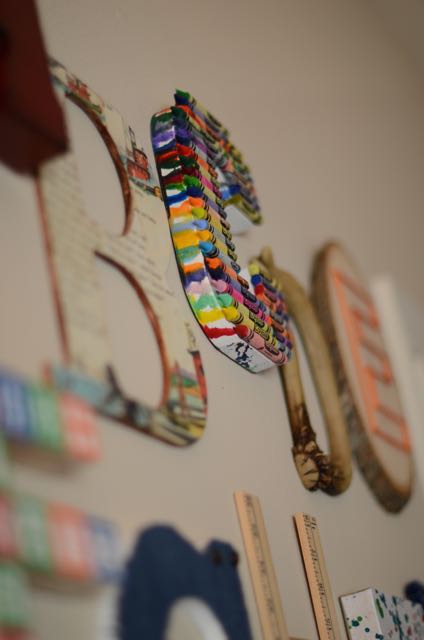 I ended up melting the crayons a little with my heat gun and let the color ooze down the edges a bit which makes me very happy.
The D is another Hobby Lobby find and E was my first attempt at nail/string art. It was so fun I sort of wanted to ditch the rest of the wall and make the entire thing in string art. The I is covered in one of Everett's watercolor masterpieces and I crocheted the J and glued to cardboard. I roughly followed the pattern for J found here, I just made it a bit bigger and added the top bar thingy (I know this part of the letter has a name, someone tell me what it is).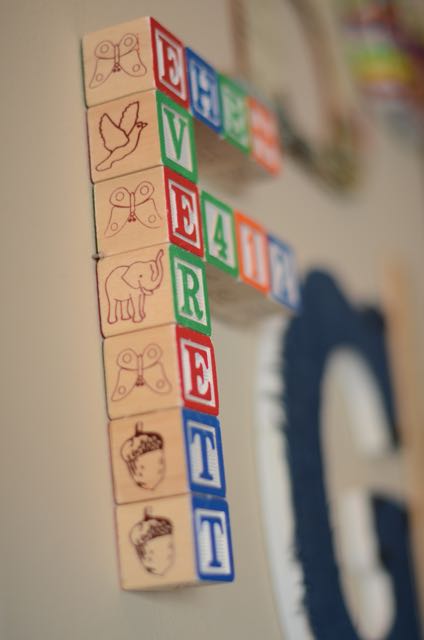 I lucked up on a super cheap incomplete set of blocks at Marshall's, glued them together, and we have our F! And let me just say it is no small feat to find a single set of letters that will spell Everett.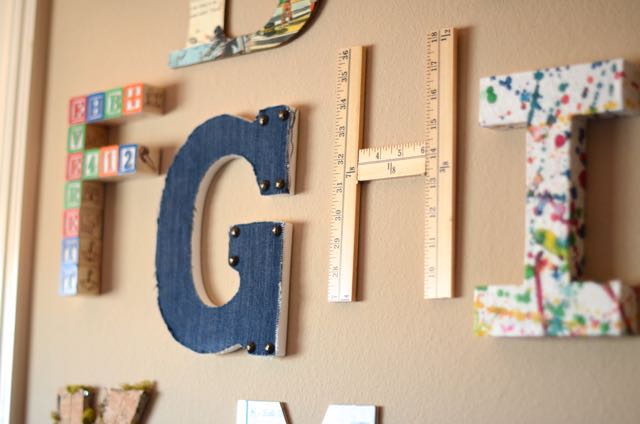 The G is covered in an old pair of jeans with a few decorative nails added, and H is a yard stick the Brandon cut to size for me and glued.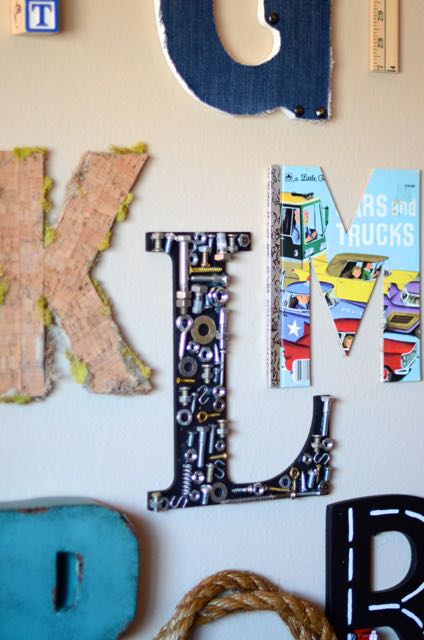 The K is covered in cork ribbon I found at Michaels with a little moss added in (because moss makes everything prettier). The L was one of the most fun to make – I glued on all sorts of nuts and bolts and washers. Many of them have been glued on more than once since Everett drug it out of the box numerous times. The M is one of my favorites – Brandon cut it from an old Little Golden Book. I have so many old books that were mine but I just couldn't choose one I was okay with cutting and ended up finding this one at Half Price Books – perfect!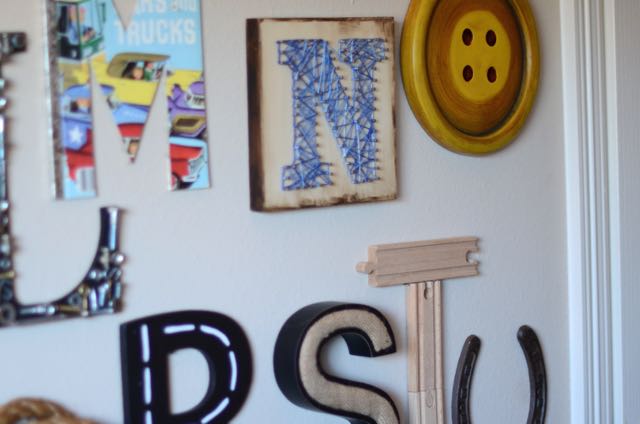 Definitely couldn't stop with just one string art and love the N even more. It started as a wood scrap that I painted then traced the letter and went to town nailing. An excellent way to release frustration should you have any in your life. The Hobby Lobby button made the perfect O.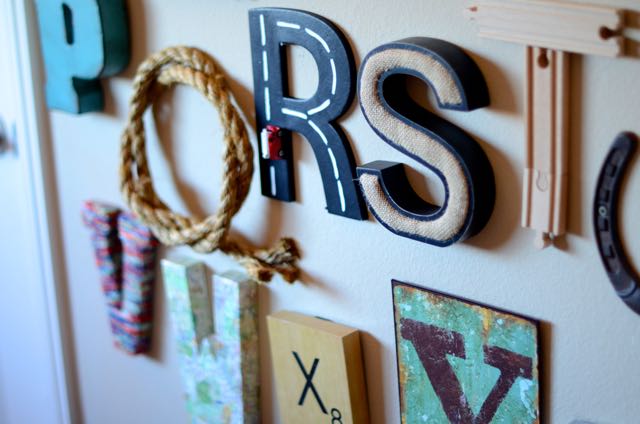 The P is another Hobby Lobby special and Q is a piece of rope from Lowes. For the R, I painted a road and added a tiny little fire truck that has also been glued on many times. The T is made from pieces of train track and S and U are from Hobby Lobby.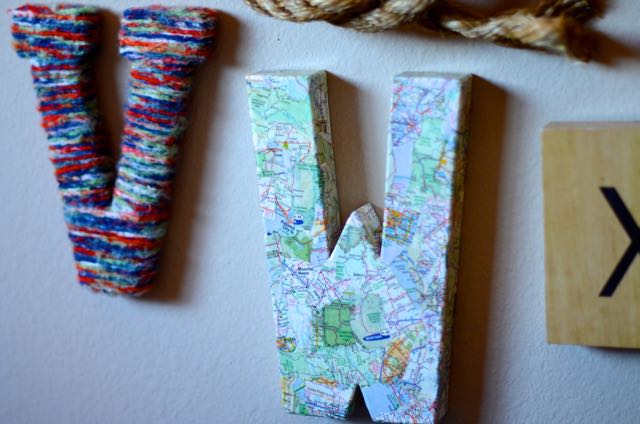 The V is wrapped in yarn and the W collaged with pages from an old atlas. The X and Y are from Hobby Lobby and Z from Michaels.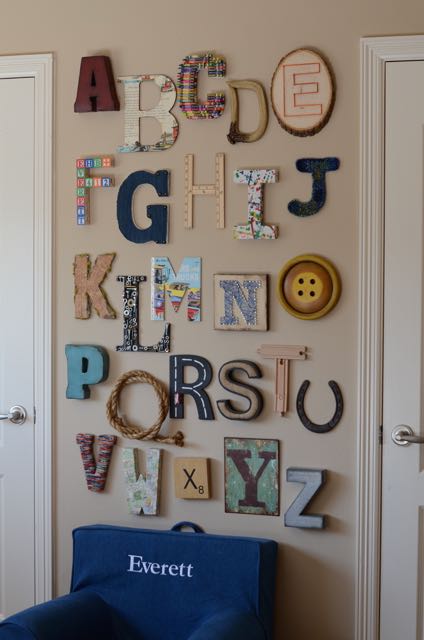 Whew…now I know my ABCs!
Everett loves his wall and even though the bottom two rows are still very much in a vulnerable spot, he has mostly (kinda, sorta) left it alone. I tried to explain it was like the Christmas tree – it is just something pretty to look at but not touch. He tells me daily that we don't touch the letters. So far so good, but I would still recommend P-Z take out some insurance because you just never know:)