Baby girl's nursery is coming along. Decorating Everett's nursery was one of my favorite things I did prepare to welcome him, and I loved every detail of it. I sat in that room rocking him so many hours and I never got tired of it. We converted the office to his nursery because it is downstairs and we just liked the idea of having him closer. Brandon and I made so many of the things for his special space and all of the planning and DIY projects were so much fun, and now we are getting to do it again!
(You can see details of Everett's nursery here)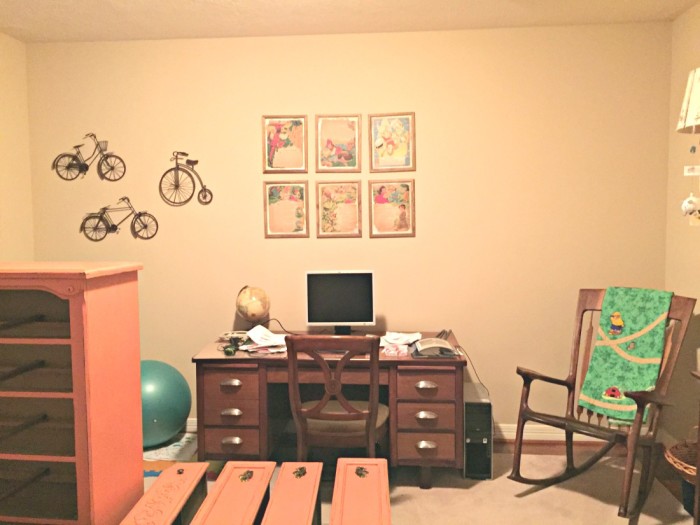 For weeks the room has looked like this. Since we moved Everett upstairs, this room has become part playroom, part office and still mostly looked like a nursery because I haven't had the heart to take down the sweet decor. Add to that bits and pieces of baby girl nursery items and it has been a bit of a disaster.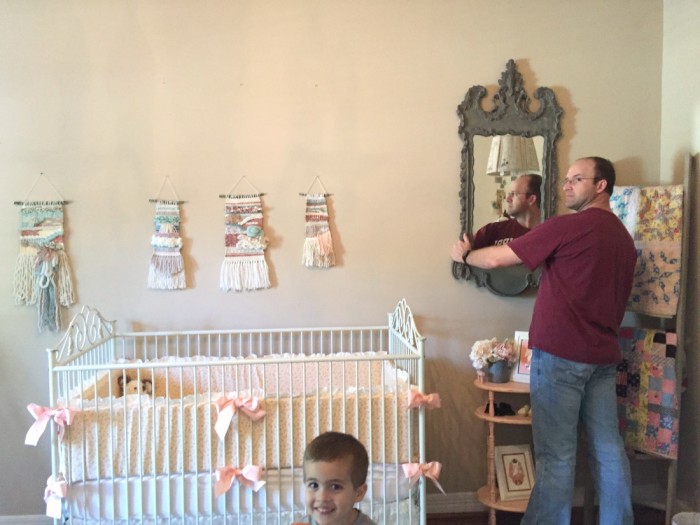 We still have a long way to go but this is what it looks like now. Nothing on the walls is permanent – just draping things on existing nails for the moment and lots of 'hold this here so I can see if i like it' and snapping photos in progress to help me make decisions. But we have come so far from what it was a few weeks ago!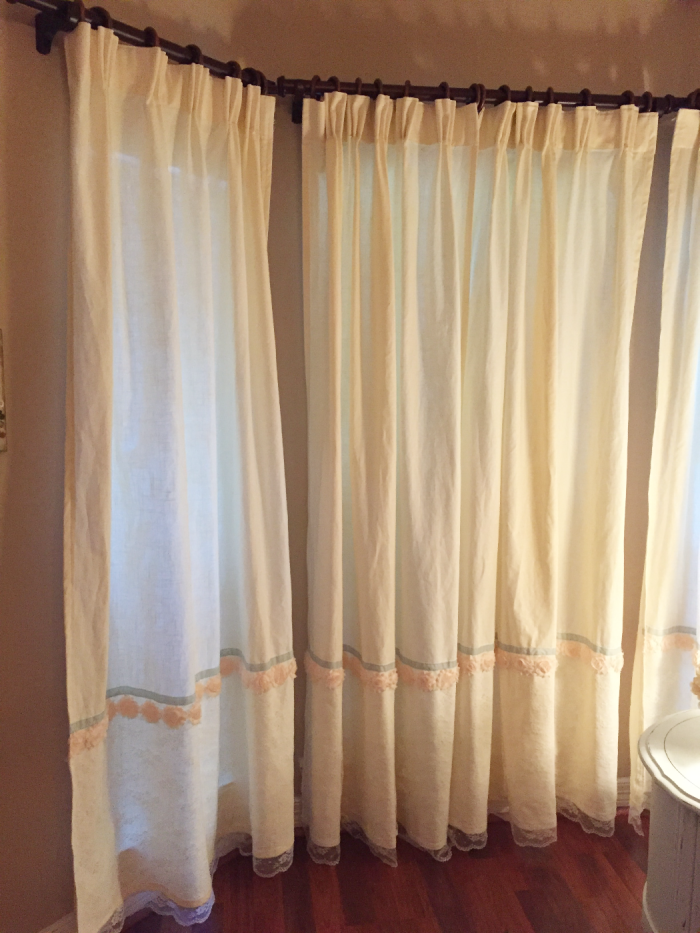 The first big project I tackled was the drapes. I wanted something lacy and frilly but not too much, and couldn't find what I wanted so figured – it's just big straight pieces of fabric; how hard can that be? Well it turns out that big and straight are actually quite hard with my particular set of sewing skills. These were not particularly fun to make. In fact I have decided that sewing is much like running to me. It always sounds like a great idea, I know I CAN do it, and am typically happy with the end result, but the actual action part of it is not fun at all. Still, I keep finding projects I want to do that just require it so I trudge on.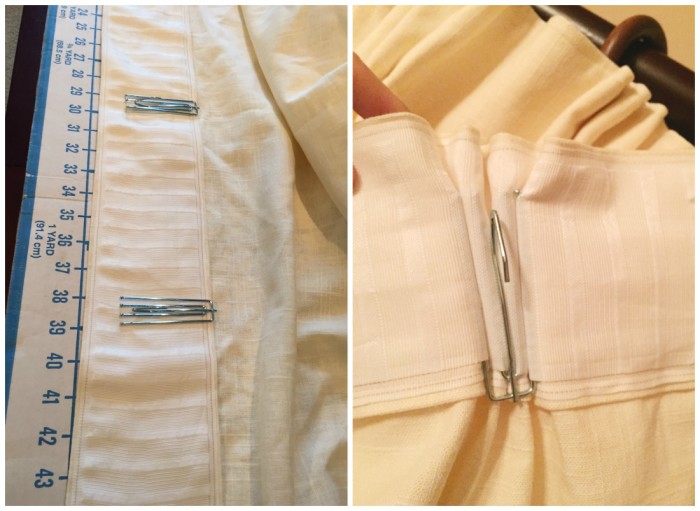 One thing that made the project a bit easier was this magical pleating tape my friend told me about. I picked it up at Joann along with these clips. All you do is stitch it along the top and the clips go into little pockets that make the pleats – so easy! After making the basic panels I stitched on lace and trim to the bottom. Now if only the panels had ended up the same length and the trim lined up they would be perfect. Imperfect works around here though and I am glad they are done.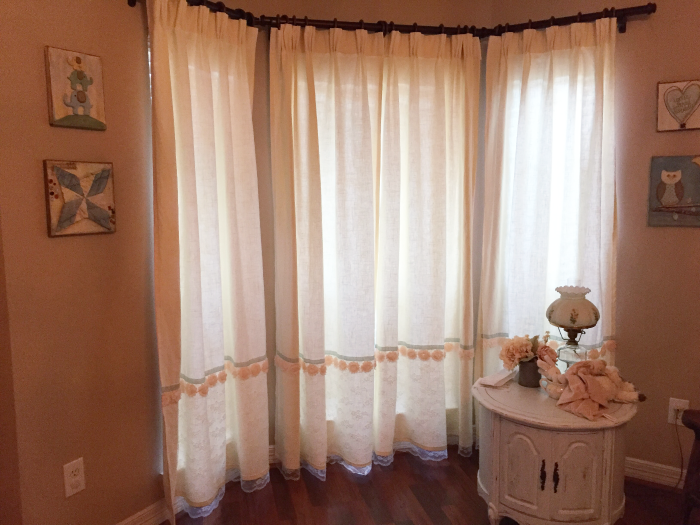 From a distance they look just fine to me and are exactly what I had in mind, and you can't buy that. Even with baby boy art still hanging around them, they girlied the room up pretty quickly. You can see a peek here of an adorable french barrel table I lucked up on at local shop too.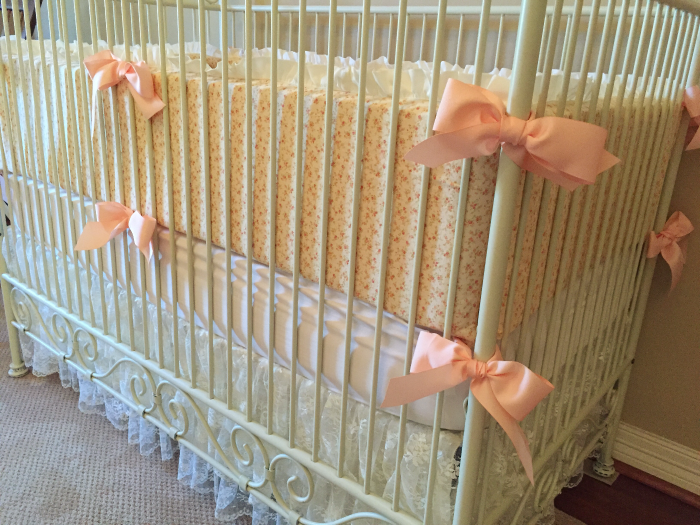 I sort of dreaded the sewing of the bedding but it ended up being much easier than the curtains. I fell in love with this peach floral fabric and it became my color inspiration for the room. I used it to make the crib bumper, which I did in four separate pieces for easy washing.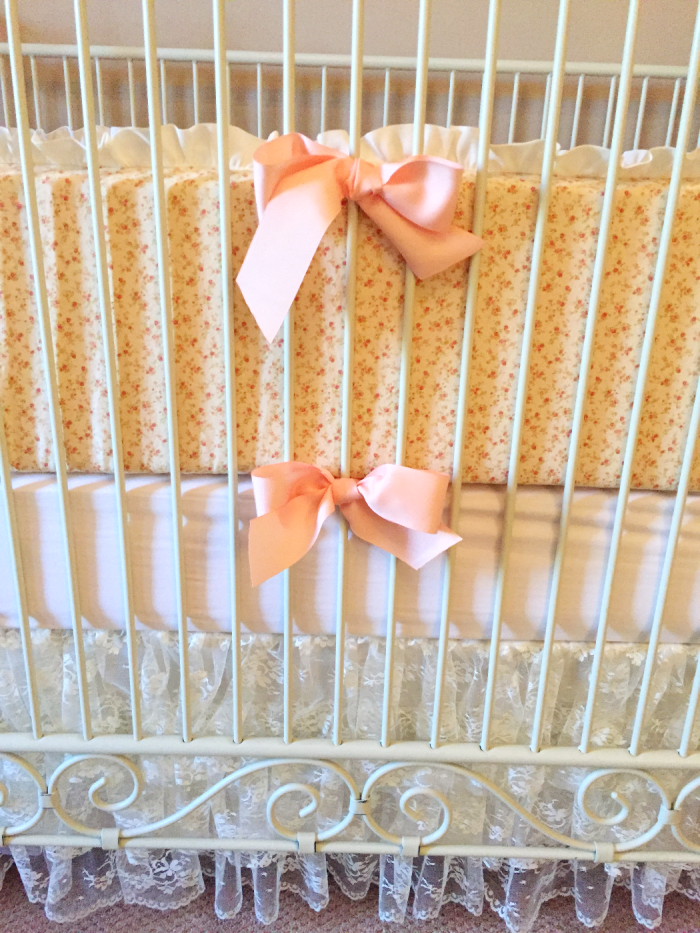 I took a couple of shortcuts with pre-made ruffle trim and grosgrain ribbon to finish the bumper so it came along pretty fast. The bed ruffle is made from three layers of lace fabric that I ruffled with my sewing machine.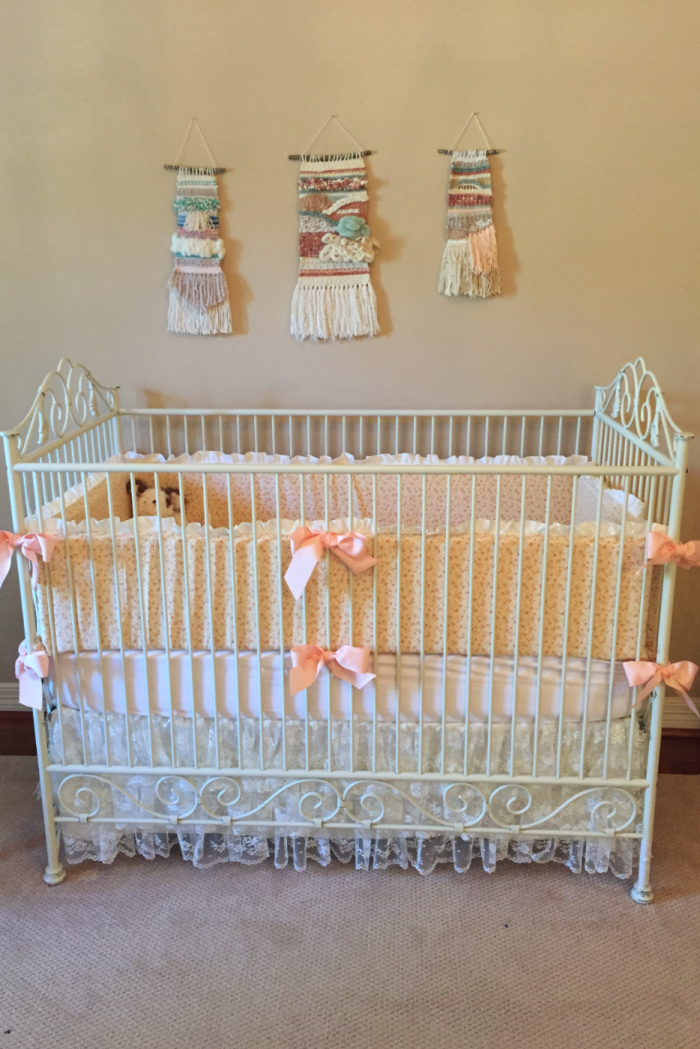 The beautiful crib is on loan from a friend who used it with her little girl and I just love how it all looks together.  The weavings are just temporarily hung on existing nails. I am still playing around with how I will decorate the walls but I know these weavings will be there somehow.
I am hoping we can get most everything finished up this weekend. I suppose we should since she will be here any day now – just under three weeks to my due date! I will share all the details here eventually when I can get good photos. Until then, here's to a creative weekend!